How do become I start
my ownbusiness as a
Boot Camp Instructor?
Outdoor and indoor Bootcamp are growing fast as one of the most popular exercise classes, gaining local and national attention.
It's a great opportunity to start your own business, to become your own boss. We are here to help, so here is what you need to get started.
Let's start at the beginning:
WHAT ARE BOOT CAMPS?
Boot camps are a generally a military style class, that include physical challenges that increasingly have become popular in the UK and world wide.
Originating in North America, they generally consist of a short, intensive type of training. They started off being most popular for those who favour rigours training regimes. However now they have been adapted to the trainers style, from military style training to circuits using both body weight exercises and equipment, they can be styled to suit your clients and your workout style.
Bootcamps can be easily set up in both an indoor and outdoor environment, allowing you to train multiple clients at the same time boosting your income and your client base.
WHAT QUALIFICATIONS DO I NEED TO GET STARTED?
The basic qualification you will need is a Level 2 Group Training Instructor as a minimum. This course will cover planning your sessions, the exercises and inspiration you may need to start your class, health and safety tips, starting your business i.e the space you need, how to look out for hazards and so much more.
You can build upon your Level 2 Group Training qualification and top it up to a Level 3 Personal Trainer qualification. This will allow you to expand your knowledge of training a client, both indoors and outdoors, plan more effective and in-depth sessions and allow you to train your clients 1-1. This is a natural progression for any fitness professional wanting to offer their clients a higher service, increase your weekly income and become an expert in the fitness industry.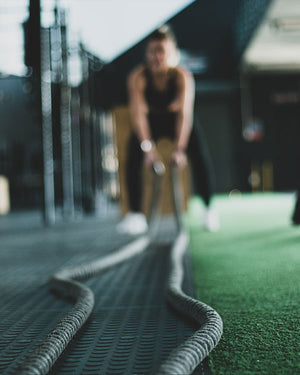 HOW DO I SET UP MY BOOT CAMP BUSINESS?
Once you have gained your qualifications, here's a few tips on how to get your bootcamp started:
*Inside or Outside? You first need to decide the location and venue of your bootcamp wether you want to partner with a gym to offer your bootcamp or take your class outside.
*Gaining clients: There are many ways you can put out your new business, start by using your social media platforms, put out your class timetable and a little about what you can offer. Start with video examples of what you're classes entail and photos of your set up boot camp. Take local flyers to your local health centres and notice boards, its a great way to publicise your class.
Get your family and friends onboard to help spread your new business on their social medias, word of mouth is a great way to gain new clients. Top tip- offer your first session free, this will trial your boot camp and also entice new members. Make sure you ask for feedback and tips at the end of your first session, this is a great way to improve your sessions.
*Plan your bootcamp sessions- make sure you are ready to train your clients, plan out your sessions and make sure your bootcamp is suitable for different levels of fitness. The more organised and prepared you are, the smoother the sessions go.
Upgrade your bootcamps with extra qualifications such as:
Kettlebells Instructor
Circuits Instructor
Padwork Instrutor
GP Exercise referral (this will help you work with older and specialist clients)
Nutrition
These will allow you to offer detailed and specific bootcamps, combining different types of training to help your clients achieve the best results. Having additional qualifications will help you stand out from the crowd, offering a specialist service to your clients.
We hope we have helped cover what it is to start your own business as a Bootcamp Instructor, we are here to help you get started on your own Fitness business journey.